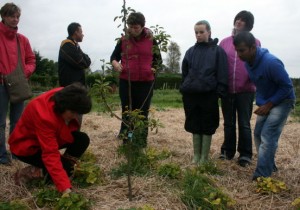 In late October 09 a group of people interested in setting up allotments in Kilkenny visited the Clonmel Allotments Association and the Aimsir Bia Allotments in Cashel. Both sites have been up and running for around a year now and the progress made in that time to turn grass fields into vegetable growing plots is amazing and inspirational.
The Clonmel Allotments Association has received a lot of support from the Clonmel Borough Council to establish the allotment. After several months of making their case, the Council came on board and sourced land for the allotments on about ¼ of an acre in an industrial part of the town near the ring round. They also erected fencing, put in a water supply and built a path through the site. There are several growers here who are growing an impressive variety of vegetables and cut flowers. Some of the allotmenteers digging on the day we arrived said that they also enjoyed the social aspect of the venture, meeting new people and learning new skills. There are around 20 people waiting for further allotments to develop in the town. Thanks to Ellen and Mieke for their help with arranging the visit.
Aimsir Bia (Time for Food) is a group in Clonmel who set up allotments and a salad-leaf growing enterprise only a year ago. In that short space of time they have secured land donated privately from individuals from the adjacent terrace of houses on the outskirts of Cashel. They have 3 narrow fields side by side; one holds the allotments for townspeople, one is currently hosting a young permaculture 'forest garden' and will host a sensory garden to help broaden the gardening experience, and the third field contains the salad leaf enterprise and tunnel. All available spaces seem to be used including decorative flower beds which were filled with cabbages.
So not only are there people growing their own food in the new allotments, Aimsir Bia is growing for others too. They grow, package and sell salad leaves, flower petals and herbs to local shops in Cashel. The funds generated go back into helping support initiatives such as their work setting up vegetable gardens in local schools. The salad beds were developed in beautiful semi-circles resembling the ripples generated when one drops a pebble in water. They are certainly generating ripples in Cashel. In addition, a new course on how to grow vegetables is being run on the Aimsir Bia site through the VEC. Finally, a corner of a fourth field now has the allotmenteers community chicken coop!. Thanks so much to Moira and Emmett for their talks on the work of Aimsir Bia.
All in all the field trip was fantastic as it showed us what allotments looked like (they are more community oriented than was thought be some), that they can spark off other initiatives, and how we could get creative with our own goals for allotments in Kilkenny. Many thanks to everyone who joined us on the trip.
So, let's hope that the Kilkenny Allotments Association will soon be successful in getting our own allotments……
Oonagh Duggan, Samhain 03, 2009
Cotact: oduggan [at] hotmail.com
2 Comments to "Growing Inspiration in Clonmel and Cashel"
on 11 Nov 2009 at 6:23 pm

1

Frank

Hi,

Thanks for your interesting post. Where can I get more information about Allotments in Kilkenny.

Also I remember reading an article some time ago about how a groups in the US are using Social Network tools such as Facebook and Twitter to create online communities around allotments.

Maybe if you get allotments off the ground in Kilkenny that might be something you want to look into.

Frank

on 11 Nov 2009 at 6:48 pm

2

admin

Thanks for your comment Frank, any information about allotments in Kilkenny will be posted on this website. You can subscribe to FPK to receive updated news alerts. See form at top of this page.
We will surely be using one if not both of the 2 social media 'biggies' as soon as the project takes shape.
Leave a Reply