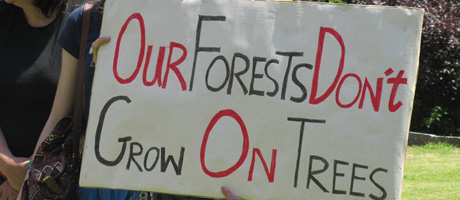 If you were to go down to the woods in Jenkinstown on Sunday (Jun 9) you would sure have a big surprise!! The serene calm of the woods was stirred by the arrival of several hundred concerned citizens who came to protest against the proposed sale of Coillte forests. Over 20 such walks took place in forests throughout the country on Sunday, all with a view to putting pressure on the Government to abandon their plans to sell the harvesting right of the state owned forests.
The Kilkenny walk was organised by the local community activist, Mick Greene and Paul Brennan from Future Proof Kilkenny. The attendance reflected the level of concern locally about the possible loss of public access to forests such as Jenkinstown Woods which are utilised heavily by dog walkers, joggers and families.
Liam Lysaght, the Director of the National Biodiversity Data Centre in Waterford, provided a very informative ecological tour through the woods and outlined how our state forests are a critically important refuge for our flora and fauna.
Cathy FItzgerald, local forest owner and Green Party Forest spokesperson (also standing in for Cllr Malcolm Noonan who couldn't attend) praised people for engaging in this issue and highlighted that this was also an opportunity to think of the forests we want for the future. Cathy and the Greens are trying to promote that we need to urgently move away from monoculture, clearfell forestry toward European continuous cover forestry, for critical ecological benefits as well as economic reasons.
Young forest enthusiasts were not disappointed on the day with plenty of art activities and story telling for children and a surprise visit by the famous "Jenkinstown Fox".
Several local musicians from bands, Boom Bust & Bailout, Whiskers of Lichen, Redneck Classics, The Men Who Play with Fog along with some great fiddle playing from Kate Powell provided the entertainment while the crowd enjoyed a picnic under a beautiful blue sky. Along with this a Poem composed by Kilkenny Poet Eoghan O'Drisceoil was read out by Mick Greene. (published below)
"This event was really a celebration of what we have and a showcase of what we could loose if the Government proceeds with the privatisation of the state forests. The forests were planted by past generations and have been maintained by public money over the years. They are here for our enjoyment and for the enjoyment of future generations to come. These forest belong to the people and they are not for sale."
"The collective agreement on the day, is that this should be an annual event. I sincerely hope that the forests will be still open for us to enjoy and celebrate this time next year."
We're very thankful to Darragh Byrne for making this great video of the event. (Keep him in mind for your next big day out!)
————————————
MY HUNDRED TREES – Eoghan O'Drisceoil
I am the dreamer of dreams the weaver of spells
A hundred doves rise from my heart
carrying with them every prayer from every tree in this, my forest of a hundred trees,
they are simple things that the trees want to be left alone to grow and to give,
I lived on the forest floor and sung to the trees in the dusk
When I was a child it was my song the trees listened to
they were curious as to the world of man as was I,
when did I stop singing to the trees?
I like that his my forest of a hundred trees will go on long after me,
I did not plant them for me but for them who are to come
seasons came and went
the changes in the trees asking, asking me with promises to keep
————————————
For more information about the campaign to prevent the sale of almost 1.2 million acres of Irish Woodland to private investors, please email info@futureproofkilkenny.org or contact Mick Greene on 085-1668149
>>UPDATE <<
As of June 19th the government has stated it will not go ahead with the sale of Coillte harvesting rights as part of its plan to sell State assets. Our campaign has been a success, Power to the People!!!
Read News Articles, Irish Times or RTE News
FPK would like to thank the following for the help and support of the Woodland Walk; Liam Lysaght of NBDC, Cathy Fitzgerald, Vered & Boaz Zur, Nicola O' Reilly, Dorota Angowska, Monica Fleming, Mick Power and Coillte, Darragh Byrne, Eoghan O'Drisceoil, Tommy Downey and Dom Brennan of Jenkinstown, James Savage and all those musicians, performers and helpers who made great this special event.