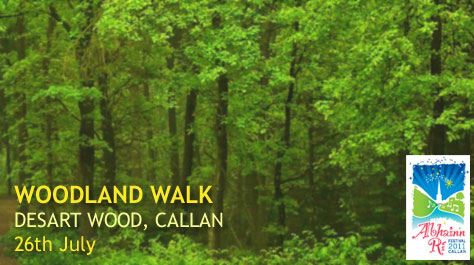 As part of the Abhainn Ri Festival, Coillte is contributing to the programme of events by hosting a 2 hour woodland walk on Tuesday evening 26th July at 7pm.
All are welcome to join in the story of ash;  learn about the lifecycle of the forest; find out why timber is such a valuable natural resource and see the rich biodiversity of your local woodland.
There will be much to hear about the social history of Desart Demesne Wood as we walk around this rich habitat.  Meet at the Hoban monument "Spirit of Place" at 7pm.
Directions:
Driving from Callan to Kilkenny, turn left at Ballymack signposted R691.  After 1km, park at Hoban Moument.
Further information 086 871 8682.
Leave a Reply