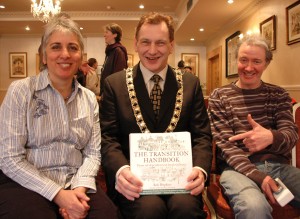 The Rivercourt Hotel under the gaze of the castle played host to the Future Proof Kilkenny launch of the Spring 2009 Transition Town events which was opened by Mayor Pat Crotty.
in his speach, Mayor Crotty spoke of moving the 'Green agenda' forward into the mainstream and praised the work of Future proof Kilkenny and Cllr. Malcolm Noonan in making this happen.
Following his presentation introduction of the need for a Transition Culture, Brian Dillon of FPK thanked Bernadette Maloney, KK coco environmental awareness officer, Agenda 21 and group members for thier ongoing contribution to the organisation. He finished by presenting Mayor Crotty with a copy of the Transition Towns handbook by Rob Hopkins.
The event was well attended with representatives from Kilkenny County Council, Coillte, Citzens Information Centre, Keep Kilkenny Beautiful, KCEB, Kilkenny Education Centre amongst others.
The programme of events continuine this years local responses to Peak oil, Climate Change and Economic Uncertainty. The aim of the programme is to bring all memebers of our community together to learn new skills, and gain knowledge that will help to ensure a healthier and progressive future for Kilkenny.
Full details of the events can be found here or you can download the full programme (5mb) here
To show we mean business!, some local producers provided samples of their goods that were on display. Thanks to The Gallic Kitchen, Indulge at the Market, Malone Fruit Farm, The Truffle Fairy, Eamonn Wallace Organic Vegatables.
A special thankyou also to the Rivercourt Hotel who provided the room and other refreshments at a 'socially benefical' rate. We'll be back!
Leave a Reply