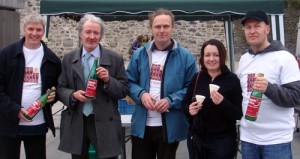 Future Proof Kilkenny has again submitted a report to Kilkenny Co Co illustrating how the fundinig received through Local Agenda 21 wa used.  Local Agenda 21 is a process which facilitates sustainable development at community level.
The report contains project descriptions and how the project partnered with the local community and explains how aspect of National environment policy has been addressed by the project as well as its contribution to developing Sustainable Local Communities.
The main activities by Future Proof Kilkenny over the past year (2010/2011) include;
1. The Green Screen
2. Local Economies, Strong Communities Conference
3. Organised Talks and Seminars:
4. Progressed the 400 Fruit Tree Project
5. Organised and Hosted Workshops at the Electric Picnic
6. Participation in Savour Kilkenny Food Festival 2010
This LA21 report also refers to the results achieved through these activities.
The Full LA21report can be read/downloaded here.
Leave a Reply