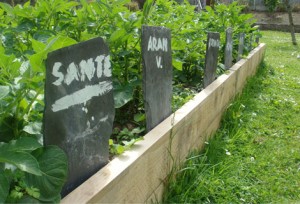 A beautiful collection of flowers, shrubs, window boxes and herbs will be available at the Good Shepherd Garden Sale this Sunday.
A nice variety of vegetable plants including, Tomatoe, Courgette and Squash will also be available.
Its expected to be a nice summers day with Strawberry and Elderflower cordial on hand for refreshments.
Get your garden growing this weekend while contributing towards The Good Shepherd Centre.
Future Proof Kilkenny's Brian Dillon has been working in the garden with the men at the centre over the past three years with great results.
So drop by early on Sunday to stock up on plants or just to see this wonderful urban garden project.
Remember, all proceeds go to The Good Shepherd Centre
Sale on 12-2pm
Sunday 3 June
at The Good Shepherd Centre, behind St. Canice's Cathedral, Kilkenny
Leave a Reply